Timberpeg Timber Frame Homes

Timberpeg homes are based on a modular system of design and engineering that makes them infinitely adaptable in style, layout and size. Although Timberpeg has over 50 timber frame floor plans to choose from, almost all of the timber frame buildings we produce are custom designed to meet specific lifestyle, budget and site requirements.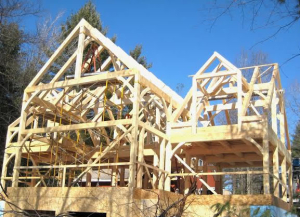 Perhaps you're dreaming of a classic, traditional home. Perhaps you prefer a sleek, modern design. Whatever the look, you know you want your home to be energy-efficient and built with sustainable building materials and practices. Timberpeg is a timber frame company that focuses on great design so your timber frame home will not only look and feel just the way you pictured it, but it will be energy-efficient, durable, and easy to maintain. A Timberpeg timber frame home is a legacy that can be passed down for generations. As a timber frame company who has been designing and manufacturing post-and-beam style homes since 1974, we have the experience and knowledge to assist you in building the home you've always wanted. And, with a network of timber frame builders and post-and-beam designers spread across the nation and the globe, Timberpeg can connect you with the local service and assistance you need to build your timber frame home.